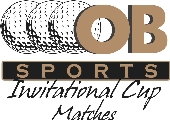 CONGRATS TO CENTENNIAL GOLF CLUB
2012 OB SPORTS INVITATIONAL CUP MATCH CHAMPIONS!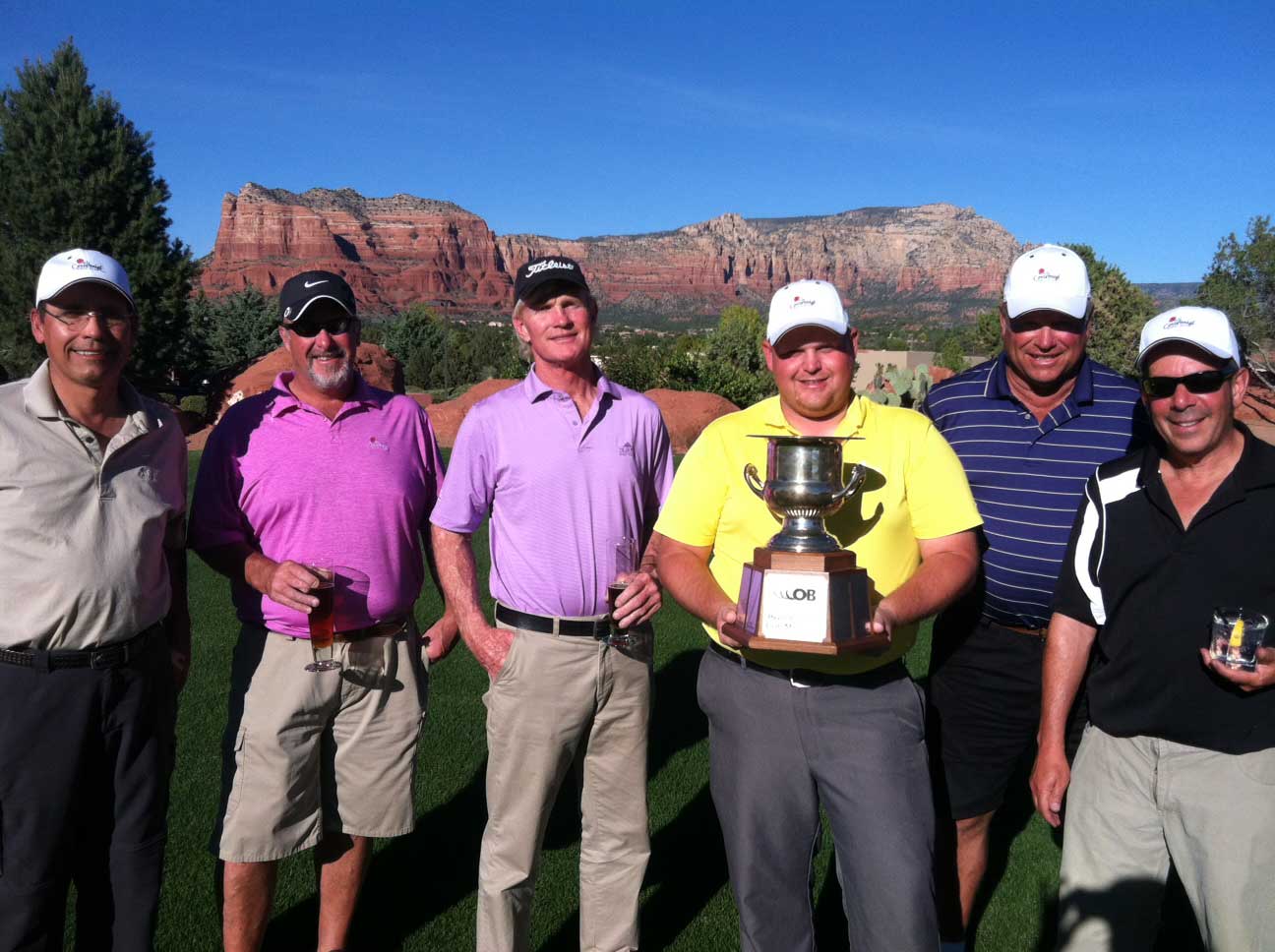 The Team from Centennial Golf Club in Medford, Oregon captured the 8th annual, OB Sports Invitational Cup matches held at Sedona Golf Resort in Sedona Arizona . Created as a gathering for OB Sports Golf Management's private facilities and additional clubs by special invitation, matches provide an opportunity for the members of OB Sports-managed facilities to enjoy the other facilities in the OB network and to develop lasting bonds and relationships with other club members from around the globe.

The format for the OB Sports Invitational Cup Matches is a "Match Around" where all players compete in 45 holes of two-person, net best-ball matches in two flights. Each team is comprised of a Club Professional, along with five club members. A cumulative point total scored by each team determined the winners in each flight. The two winning teams face off in a four-hole grand finale, alternate shot horse race to determine the winner of "The OB Cup".

The home course, Sedona Team was the winner of the "O" Flight of the tournament, posting 87.5 points, a 4.5 point led over second place team (and defending champion) High Meadow Ranch. The Sedona team, led by General Manager, Jeremy Hayman was comprised of Sedona members including: David Smith, Todd Greenwald, Randy Cote, Lionel Martinez and Tim Kyllo.

The "B" flight winners were the Team from Centennial that held off the Longbow Team by one point after posting a combined point total of 80 points. Team Centennial advanced to the final match to take on Team Sedona in the four hole alternate shot horse race/final match. Team Centennial went out to an early lead but Sedona captured the 3rd playoff hole to square up the match. On the fourth and final hole, Team Centennial edged Sedona to claim "The Cup", 1 up. The Championship team from Centennial Golf Club included Head Golf Professional, Chris Daggitt along with Centennial members Mark Wilson, Steve Lovich, Steve Elam, Mat McMillin and Bob Mayer.

"Congrats to the Team Centennial for capturing the coveted OB Sports Cup, in dramatic fashion" stated Doc Belitz, Vice President of Operations of OB Sports. "We appreciated the support of all of the participating clubs and teams but also want to make sure to say thank and recognize our host venue Sedona Golf Resort. Sedona was a truly amazing facility and was the perfect host destination. The rejuvenated golf course, exceptional conditions and recently renovated clubhouse provided the perfect locale for these highly competitive, yet fun, Cup matches," added Belitz.

Twelve teams participated in the 8th Annual OB Sports Invitational Cup Matches. Participating clubs in the 2012 OB Invitational Cup Matches included: Tetherow Golf Club – Bend, Oregon; Sedona Golf Resort – Sedona, Arizona (2 teams); Angel Park Golf Club – Las Vegas, Nevada; Talking Rock Golf Club - Prescott, Arizona; Somerby Golf Club - Rochester, MN; Longbow Golf Club - Mesa, AZ; High Meadow Ranch Golf Club – Magnolia, TX, Chaparral Pines – Payson, AZ, Fountain Grove in Northern California and Centennial Golf Club – Medford, OR.

2012 OB Sports Invitational Cup Matches – Final Results
Champion: Centennial Golf Club

OB Sports Invitational Cup Matches Past Champions:
2012 Centennial Golf Club. Hosted by Sedona Golf Resort, Sedona, Arizona
2011 High Meadow Ranch. Hosted by Talking Rock Club, Prescott, Arizona
2010 Tetherow Golf Club. Hosted by Tetherow Golf Club, Bend Oregon
2009 Tetherow Golf Club. Hosted by Superstition Mountain, Arizona
2008 Somerby Golf Club. Hosted by Talking Rock Club, Prescott Arizona
2007 Dalhousie Golf Club. Hosted by Dalhousie Golf Club, Cape Girardeau, Missouri
2006 Portmarnock, Ireland. Hosted by Winchester, Auburn, California
2005 Dalhousie Golf Club. Hosted by Somerby Golf Club, Byron, Minnesota

For more information or to register, visit www.obsportscup.com
______________________________________________________________
PRIOR HOST SITES OF THE OB SPORTS INVITATIONAL CUP MATCHES

2011 Host Club - Talking Rock Golf Club
Located in Arizona's cool weather "high country" in the quaint town of Prescott, Talking Rock Golf Club has entrenched itself as one of the most popular mountain golf and residential properties in the State if Arizona. Talking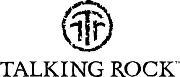 Rock was rated by Golf Digest Magazine as one of the Top 20 courses in Arizona, and designed by renowned architect Jay Morrish. Talking Rock brings a fun and playable design for all skill levels, excellent conditions, impeccable service and outstanding cuisine. This reputation has commanded a repeat performance as Talking Rock served as the host for the OB Sports Cup matches in 2008, the first Club to repeat as a host. Talking Rock's casually elegant Ranch House will serve as the perfect retreat before and after golf festivities. Located an easy 2-hour drive from the Phoenix Sky Harbor International Airport Talking Rock is ideally situated to create a fun and memorable golf weekend. Enjoy the views of the Club and course tour at www.talkingrockranch.com

2010 Host Club - Tetherow Golf Club
Located minutes from downtown Bend, Tetherow Golf Club boasts a visually striking par 72 layout that was designed by award winning architect David McLay Kidd. The routing takes full advantage of the stunning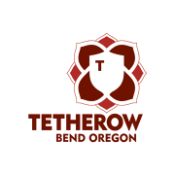 panoramic views of the Cascade peaks and the rugged high desert terrain. In its short history, Tetherow has been honored by nearly every major golf publication. Upon opening, Tetherow was ranked #1 as the Best New Course You Can Play in The Country by Golf Magazine and has since then received numerous other "Best New" Rankings from Golf Digest, Links Magazine, Golfweek, T&L Golf and the Robb Report. Tetherow was also honored for environmental stewardship and became the first course in Oregon to become a Certified Audubon International Signature Sanctuary, by the Audubon International. Tetherow is just minutes from the vibrant restaurants, cafes and culture of downtown Bend, and is situated in close vicinity to Mt. Bachelor Ski Resort, miles of hiking and biking trails, world class fly fishing and white water rafting on the "the Deschutes", and more. Upon completion, the 700-acre, award-winning golf community will offer elegant lodge homes, townhomes and cabins, as well as the Tetherow Golf Academy and a host of other exciting amenities. With easy access to golf, hiking, biking, skiing, fishing and paddling, Tetherow is the perfect home base for adventurers looking to explore the Oregon wilderness. For more information on the Tetherow community, visit tetherow.com or call toll free at: 866 -234-4848. For tee times or more information on Tetherow Golf Club, email golf@tetherow.com, call: 541-388 CLUB (2582) or visit www.tetherow.com. You can become a Fan of Tetherow on Facebook at www.facebook.com/tetherowgolf or follow Tetherow on Twitter at www.twitter.com/tetherowgolf

2009 Host Club: Superstition Mountain Golf & Country Club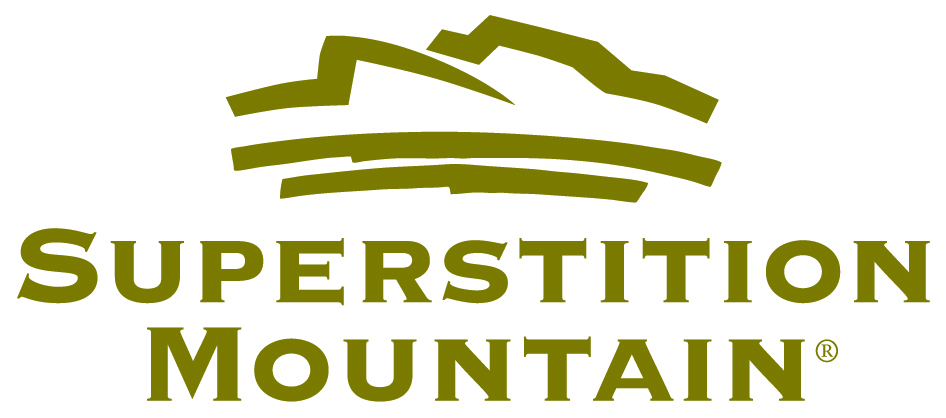 Superstition Mountain Golf and Country Club played host to the 2009 Invitational Cup Matches. The participants competed on both of the two Nicklaus Design golf courses, The Prospector and Lost Gold. Prospector has been the site of the 2002 Countrywide Tradition tournament and the home of the LPGA Safeway International from 2004 to 2008. Recently, the Prospector was honored as one of the Top 100 Residential Courses in the Country by Golfweek for 2009. Lost Gold Course was ranked as one of the "Top 10 Private courses in Arizona" by Desert Golf.

2008 Host Club: Talking Rock Club
Located in a peaceful, rural setting, just minutes from Prescott, Talking Rock is a 3,600-acre private, luxury home community with a casual western lifestyle and the amenities of an exclusive country club. The Jay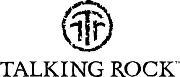 Morrish-designed 7,350-yard championship golf course intertwines through more than 1,000 acres of preserved open space, presenting residents with the spaciousness of Arizona's high country. Talking Rock offers spacious custom home sites, as well as Ranch Cottages, Ranch Homes and custom homes designed in an authentic ranch style and built by the area's finest craftsmen. Talking Rock is a development of Harvard Investments, a Scottsdale, Ariz. based real estate development company respected for its high quality, residential projects throughout the Southwest. The Talking Rock golf course and Ranch Compound are professionally managed by OB Sports. More information on Talking Rock and Harvard Investments, Inc. can be reached at 877-922-4440 or www.talkingrockranch.com .

2007 Host Club: Dalhousie Golf Club
Ranked "#1 in Missouri" by Golf Digest's "Best in State" Ranking for 2007/2008, Dalhousie Golf Club is home to

a stunning Nicklaus Design that plays to 7,242 yards and a par of 72. A future host site of the Missoui State Amatuer Championship, and the AJGA Rolex Junior Championship, Dalhousie is a private club that offers a unique "no dues" National Membership program, providing an intriguing option for those golfers who may already be affiliated with a country club or for those living outside of Cape Girardeau county looking to become a "National Member" of Dalhousie. Members of Dalhousie have access to Scottish-style "Dalhousie Manor" (a new 20,853 clubhouse opening this summer), on-site member cottages for overnight accommodations and access to "Dalhousie at Water's Edge". "Dalhousie at Water's Edge" provides members with additional overnight accommodations, private access to ten acres of well-stocked fishing ponds, indoor and outdoor pavilions for wedding receptions, meetings and other special events. All of which provide welcoming amenities for visiting members and their guests. For more information on Dalhousie Golf Club call (573) 332-0818, or visit www.dalhousiegolfclub.com.

2006 Host Club: Winchester Country Club
Winchester Country Club is an exclusive private residential golf community, located in the foothills of the

Sierra Mountains and just a short drive from Lake Tahoe or Sacramento. Winchester Country Club is one of only seven courses in the world co-designed by the father-son duo of Robert Trent Jones Sr. and Robert Trent Jones Jr. Gigantic rock outcroppings border the playing corridors. Panoramas sweep across the Sierra foothills down to the Sacramento Valley that are surprising at every turn. Upon opening in 2001, Winchester Country Club quickly established itself as one of the most prominent private clubs in the state being ranked #13 out of over 3,000 golf courses in California by Golf Digest Magazine. Most recently Winchester Country Club's stately clubhouse won the Best New Clubhouse award from Golf Inc Magazine. It's also one of the top three courses built in Northern California in the last 35 years. For more information on Winchester Country Club visit www.winchestercountryclub.com
2005 Host Club: Somerby Golf Club
Located in Byron, Minnesota, just minutes from Rochester, Somerby Golf Club is a world-class private club
designed by two time PGA tour winner John Fought and 1996 British Open champion Tom Lehman. Honored as one of the "Top Ten New Private Clubs" in the country by Golf Magazine, Somerby Golf Club is the showcase amenity for Minnesota's premier private golf community developed by Golden Tee Development, a partnership between Ames Construction, Inc. and Wensmann Homes. A host of the PGA Tour's Nationwide Series, this par-72, 7,209 yard layout takes full advantage of gently rolling canvas that is dotted with thick stands of trees, meandering creeks and handsome pockets of grassy wetlands. Impeccable grooming, strategic bunkering and classic shot making options further define the scene, making Somerby as challenging as it is beautiful. For more information on Somerby Golf Club visit www.somerbygolfclub.com
______________________________________________________________


8th Annual OB Sports Invitational Cup Matches
October 25-27, 2012 at Sedona Golf Resort in Sedona, Arizona!
The 8th Annual OB Sports Invitational Cup Matches took place October 25th through October 27th, 2012 at the spectacular Sedona Golf Resort in Sedona, AZ.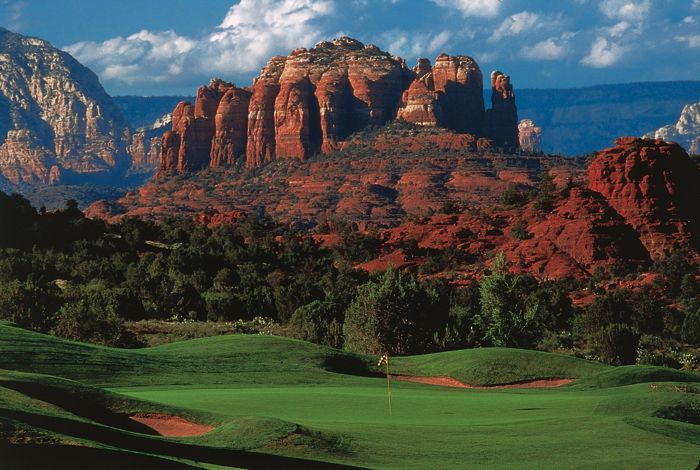 This event is the gathering for all of OB Sports Golf Management's facilities and additional Clubs by special invitation. The event creates an opportunity for Members of our Clubs to enjoy other OB managed properties and make new friends in a fun and competitive golf environment.
About Sedona Golf Resort
Located in the heart of one of the most captivating regions in the Southwest is the Sedona Golf Resort. Sedona is one of the largest tourist attractions in the State of Arizona and second only to the Grand Canyon when it comes to visitors per year. The renewed 6,646 yard golf course is in great condition and is fun and playable for all abilities. The newly remodeled Juniper Bar and Grille at the Sedona Golf Resort will provide the perfect after golf experience we all can appreciate. This newer OB Sports property is located an easy 2-hour drive from the Phoenix Sky Harbor International Airport. Sedona Golf Resort is ideally situated to create a fun and memorable golf weekend. Enjoy the views of the Club and a course tour at www.sedonagolfresort.com
The Teams and Format
This year's event will be comprised of twelve six-man teams divided into two flights (flight O and B). The team from High Meadow Ranch will be returning to defend their Championship.
Each six man team will be divided into three two-somes. You may pair twosomes as desired while maintaining a handicap differential of 8 shots. The format Fourball Match Play consists of five nine-hole net best ball matches. One point will be awarded for each hole won and ½ point will be awarded for a tie. The team winning the match will also receive one bonus point.
The Teams and Format
The team with the highest aggregate score of all matches will determine the flight winner of each flight. If tied head to head team aggregate totals will break the tie. If still tied the C player's head to head match followed by B, then A will break the tie. The two flight winners will meet for a four hole, six man gross alternate shot match play shoot out to determine the over all winner. If the match is tied after four holes, a sudden death play off will determine the winning team.
Tournament Fees
The entry fee of $425 per player includes all golf related charges, practice round, associated cart fees, tee prizes, awards and most of the food and beverage during the specified hours of the event.
All travel expenses to be paid individually by the participants.
There is also a mandatory cash buy-in of $50 per player that covers the cash two man individual team prizes for the event. It is the responsibility of the traveling Golf Professional to secure these payments for delivery at team registration.
Itinerary and Dress Code
The dress code is resort casual for all events and denim is allowed at the Sedona Golf Resort. While we expect nice fall weather, we do advise our competitors to be prepared for inclement weather. We also recommend competitors to bring a sweater and/or a light jacket for evening functions as some of our seating may be indoor / outdoor.
Wednesday – October 24th, 2012
Optional Practice Rounds – Call Golf Shop for starting times at (928) 284-9355.

Thursday– October 25th, 2012
2:00 PM – 2:45 PM – Event Registration
Round 1 – 3:00 PM Shotgun Start
5:30PM - Cocktails and Dinner to follow Round 1
Juniper Bar and Grille – The Club will close at 10:00 PM
Friday – October 26th, 2012
7:00 AM Grab and Go Breakfast Sandwiches, Juice and Coffee to go......
Round 2 - 8:00 AM Shotgun Start
Round 3 - 10:30 AM Shotgun Start
1:00PM Post Golf – Heavy appetizers and cocktails @ Juniper Bar and Grille
Saturday – October 27th, 2012
7:00 AM Grab and Go Breakfast Sandwiches, Juice and Coffee to go......
Round 4 - 8:00 AM Shotgun Start
Round 5 - 10:30 AM Shotgun Start
1:15PM Shoot Out
4:00 PM - Closing Awards, Heavy Appetizers and Cocktails
NO ORGANIZED DINNER FOR SATURDAY NIGHT --- Head into Sedona and experience some of our great restaurants and bars!
Sunday – October 28th, 2012
Travel Day
Accommodations
TBD
Please contact Doc Belitz at dbelitz@obsports.com or cell (480) 797-6421 if you have any questions or concerns regarding the event.
If you have additional questions please feel free to contact the host professional Gary Pearce at Sedona Golf Resort (928) 284 - 9355 or
gary.pearce@sedonagolfresort.com
Car Rental Discounts
OB Sports Invitational Cup Match participants recieve preferred rental car rates with Avis and Budget. Click on the links below to reserve your rental car on-line at preferred rates: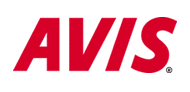 Click here
to reserve your rental car with Avis

Click Here to reserve your rental car with Budget

Registration
For registration forms and information, contact your General Manager and/or your Director of Golf . To insure participation, teams should be paid in full by September 1, 2011 (check payable to OB Sports).

If you have any questions about the event please contact your General Manager and/or Director of Golf or contact Doc Belitz @ (480) 776 – 8107 or via email at dbelitz@obsports.com